Catholic Christian Resources

There are plenty of sites on dealing with Catholic Resources in the internet. Here are some of the better ones.
---
In your hearts reverence Christ as Lord.
Always be prepared to make a defense to any one
who calls you to account for the hope that is in you,
yet do it with gentleness and reverence.
- 1 Peter 3:15


AlaPadre's Catholic Corner
Catholic Church miscellany..actually quite a massive corner or lists generally searchable in alphabetical order

Apologetics for Catholics and other Christians
Catholic Apologetics information explaining some of the biblical basis for what the Catholic Church teaches. A site maintained by Michael Gallagher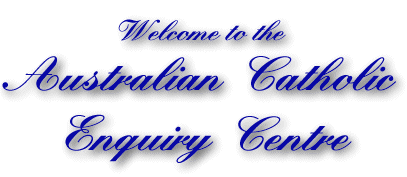 Australian Catholic Enquiry Centre.
The Catholic Enquiry Centre, a work of the Australian Catholic Bishops Conference, exists to provide basic information about the Catholic Faith, Beliefs and Story, especially for those who are not Catholics, and to confirm Catholics in their Faith.

Biblical Evidence for Catholicism
Biblical, historical, and reasoned proofs for the Catholic Church, as well as much more, and mega-links throughout. by Dave Armstrong, Catholic Apologist and Free-Lance Writer, Joyful Husband, Daddy, & Celtic-American, Nature-, History- and Music-Lover .


"Earnestly contend for the faith which was once delivered unto the saints. "
- Jude 3

Catholic Answers: Apologetics and Evangelisations.
Answers to questions about the Catholic faith -- plus much more. .. two booklets and more than 100 tracts online...new titles added regularly... database of thousands of questions and answers... See what the Fathers of the Church (the earliest Christian writers) taught and how their..

Catholic Biblical Apologetics
Include origin an development of Roman Catholic Christianity from the period of the apostolic church, through the post-apostolic church and into the conciliar movement. Principal attention is paid to the biblical basis of both doctrine and dogma as well as the role of paradosis...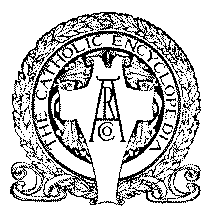 Catholic Encyclopedia
A great project to put on the internet the original massive 20-odd volume Catholic Encyclopedia which was first published around the turn of the century.

Catholic Online
Probably the largest and most comprehensive Roman Catholic Information Internet Site in the web.

Catholic Resources on the Net
A comprehensive list maintained by The Catholic Center at Georgia Tech in the Archdiocese of Atlanta.
Categorized elegantly: including art & architecture, bible, general catholic sites, Spiritual Resources, traditional sites, and more.
"..Plan: To know Him, love Him and serve Him, in this world and the next.." - Theodore Book (Webmaster).

Catholic Return Homepage
"Welcome to my Catholic Return Homepage. Dedicated to explaining and defending the Roman Catholic Church. I use Truth, what do you use? When did your church get founded? ....On this site you will find a re-version story, Catholic apologetics, links to.."

Catholic Teachings
Includes commandments, apostles, beatitudes, Holy Spirit, last things, Sacraments, virtues, works of mercy, angels, sins, prayers, &c.

Dr.Scott Hahn links page.
100% Catholic Scripture Study. Welcome to the Dr.Scott Hahn Links Page by JohnD'Arcy. Dr.Scott Hahn...An amazing Catholic Apologist!!! His Conversion Story. Presbyterian Minister turns Catholic. Transcripts of debates. The Authority Debate. The Justification Debate. Links to..
Catholic spiritual growth and reference material including:Contents: Spiritual Growth, Information , Reference Material , Catholic Prayers, Catholic Links...

KDC
The objectives of the Catholic Documentation Centre, (KDC; Katholiek Documentatie Centrum), which was set up by the Catholic University in 1969, are: to preserve, collect and make accessible of documentation on catholic life in the Netherlands...
This guide is intended to assist searchers of theological and religious information on the Internet, and is arranged according to major areas of concentration in St. John's School of Theology · Seminary.
A browser start page for Catholics... Comprehensive links to all the most-visited Catholic sites as well as search engines and news links. It also tells you what today's feast day is, today's scripture readings, reminds you of your prayer intentions and provides a daily inspirational quote.

New Advent Catholic Website
Website on Catholic beliefs, Pope John Paul II's recent statement on evolution, Summa Theologica and more.

Pillar of Fire, Pillar of Truth.
... the Catholic Church's claim to be the safeguard of the teachings of Jesus Christ...challenges from... door-to-door missionaries...peer pressure to ignore the Church's teachings ...secular culture whispers "There is no God."...this site gives a brief introduction to the Catholic Faith.

Second Vatican Ecumenical Council
The Second Vatican Ecumenical Council Dedicated to "The Immaculate". Includes assessment, preparation and proceedings of the Council...

Scriptural Catholicism.
.. easily-referenced index to the Scriptural underpinnings of Catholic doctrine and dogma, with a minimum of exegesis...numerous apologetics and doctrinal resources to bring together..all the Scriptural references which have historically been used in the defense of Church teaching.

St. Benedict Center.
Saint Benedict Center is dedicated to a twofold mission: the defense and propagation of the dogma of Faith, extra ecclesiam nulla salus (outside the Church there is no salvation). Include...Catholic Prayers and Devotions, Sacred History and Current Issues, Lives of the Saints and Blesseds, ...&c.
---
Suggestions for any suitable and appropriate site/ URL to be included here will be most welcome. Thanks.
---

Main Homepage
Click on the Back button, if you wish to return to the previous page.
---