But seriously:


---
Orang Utan Sanctuary in Sepilok.
---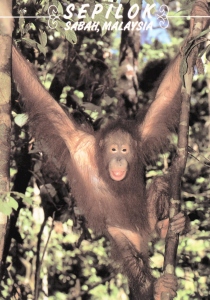 The orang utan is a protected species in Sabah. The Sabah Wildlife Department maintains a sanctuary for this primate in Sepilok , a "hamlet" near Sandakan, the second largest town in Sabah, on its eastern coast.

Sandakan is accessible by land, sea and air, or, if you like, by vine :-)

Orang stands for man while utan means jungle; hence orang utan may be translated as jungle man.